As the community manager at Village Juicery, Jessica plays many roles; she manages the 540 College St location, curates products for the store, provides nutritional advice as an in-house nutritionist and builds relationships with other health-minded people and businesses in Toronto. In this Be a Villager, we get to know the person behind the counter and learn more about her passion for holistic nutrition and what it's like to call Toronto home. VJ: How did you get interested in holistic nutrition? JL: Nutrition is the way I found myself. I was working at a media distribution company right after I graduated...
---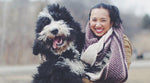 In this instalment of our #BeAVillager series, we go back to the beginning with our first hire, Karen Parucha, marketing manager, leader and most importantly, our voice to the outside world. VJ: How did you get involved with Village Juicery? KP: Sometime around the summer of 2014 I started to have an existential crisis. I was working a corporate job, travelling for work a lot and getting more serious about yoga, but it wasn't adding up. I started to realize that I simply wasn't happy and I needed to make a change. So I left the corporate world, shifted my focus to...
---
By Jessica Lancaster High Pressure Pasteurization (HPP) is a technology that inactivates bacteria in juice without introducing heat or chemicals. Once juice is packaged in plastic, 80,000 lbs of pressure is applied to it in water chambers. This pressure is equivalent to 6x the pressure at the bottom of the deepest ocean and extends the product's shelf life by tenfold, allowing many juice companies to expand distribution of their "raw" juices nationwide.  We believe that true raw juice has a living energy that is integral to our product. We recognize there is an overwhelming amount of conflicting research on HPP...